Home of Mirika C, Officially
New Books for 2017
---
It only takes a click to subscribe and give me another great reason to make a VIDEO!
---


I THOUGHT I WAS ALONE TRILOGY

IS NOW IN
AMAZON KINDLE   GOOGLE PLAY    iTunes      NOOK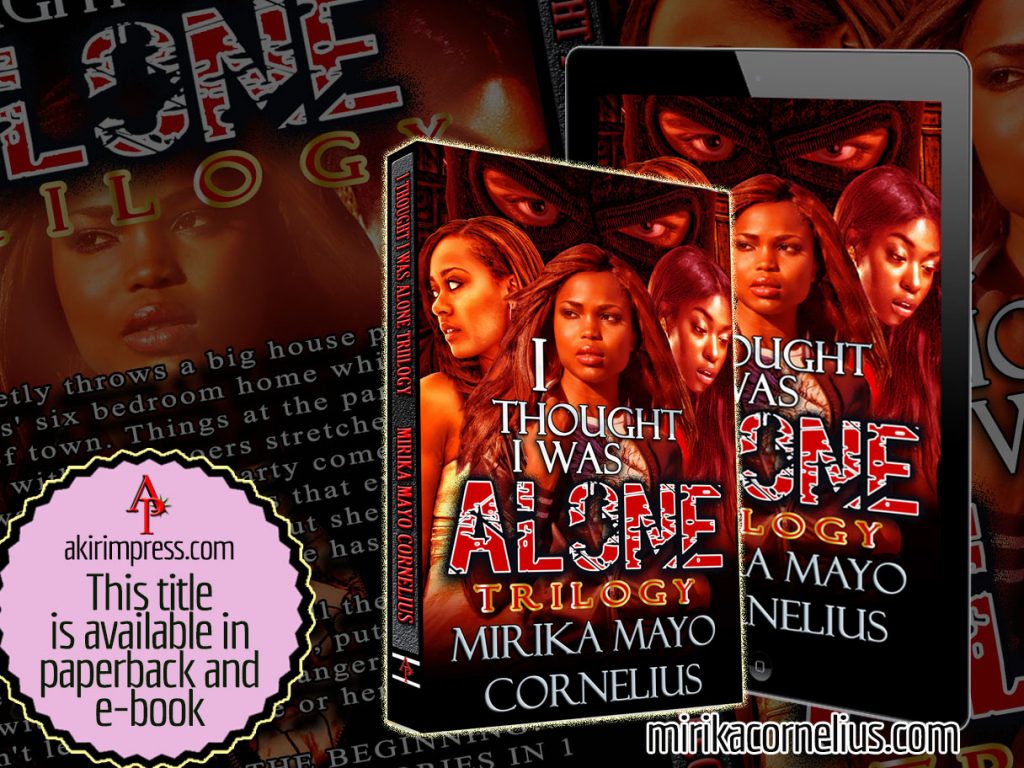 ---
---
View previously released books by Mirika Mayo Cornelius via the categories below.
Titles are listed under each category.
First Degree Sins
Cold Blooded Goons
Most Wanted Felon
The Gabriel's Trails Series 
-Murders at Gabriel's Trails: An Alexis & Bain Love Story
-Murders at Gabriel's Trails II: A Son's Sacrifice
-Murders at Gabriel's Trails III: Paths of Revenge
-Murders at Gabriel's Trails IV: Littered Deception
-Murders at Gabriel's Trails V: Lies in the Crossfire
***Murders at Gabriel's Trails The Complete 5 Part Collection with bonus portion of Sins of Bain*** (available in paperback or digital)
-Sins of Bain (the full, extended version)
-Deception at Gabriel's Trails
-Deception at Gabriel's Trails II
-Deception at Gabriel's Trails III
-Deception at Gabriel's Trails IV
-Deception at Gabriel's Trails V
***Deception at Gabriel's Trails The Complete Series***(available in paperback or digital)
The SECRET Novel Collection
-Secret
-Colored Lily: Poppa Took My Innocence
-Paton
Curse the Cotton
Disguised by a Raging Smile

-Sunny Sides of My Shade
-(Title not yet released to public – 2017)
Ain't Quite What I Thought!
Ain't Quite What I Thought! 2
Inside the Gates of Doons
I Thought I Was Alone Trilogy
-I Thought I Was Alone
-I Thought I Was Alone 2
-I Thought I Was Alone 3


 Cyan Deane
-Dead Man's Mayhem (Noir)
-Execution's Karma (a Science Fiction/Dystopian fiction)
-Upcoming Book Release/ Book Cover Complete – 12/2018 (Noir)