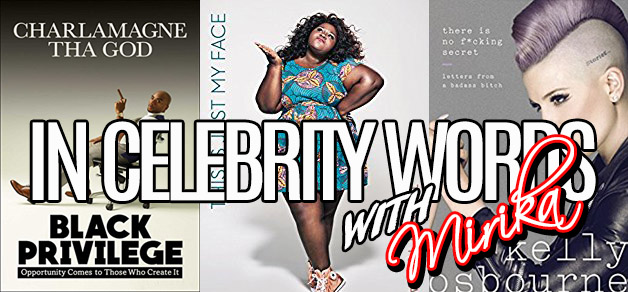 We are about to have soooo much to read in the upcoming months, and I've pulled the books that may be of the most interest IN CELEBRITY WORDS!  As you can tell by the poster up top, Charlamagne tha God, Gabourey Sidibe, and Kelly Osbourne are three of the celebrities releasing books in the upcoming weeks, and I'll give you my take on why each will be of interest for YOU.
Starting with Gabourey Sidibe's This is Just My Face: Try Not To Stare… for those unfamiliar (and there should absolutely be none of you who haven't at least seen her before because she's only been a part of major television shows like uhhh… EMPIRE or major movies like 2009's PRECIOUS along with others in between.
Anyway, Sidibie's This is Just My Face will release on May 1st of 2017 directly to your device or awaiting your read at the bookstore, and if you want to read a book that really gets real with who a person truly is beyond looks, riches and more, this is the book for you.  I would call this book refreshing, despite having yet to read it, because knowing only a portion of her "come up" is enough to make anyone say "hey…I'm good!" no matter what they look like or where they come from.  Actually, circumstances are what can deliver the drive and expectancy to make things happen when the odds look bleak.
Besides all that though, I want to read how Gabourey tells her life story as it is truly an interesting one if you know bits and pieces about her mother and father.  It's a real page turner.  Below is the Amazon deal so PRE-ORDER:
"Gabourey Sidibe—"Gabby" to her legion of fans—skyrocketed to international fame in 2009 when she played the leading role in Lee Daniels's acclaimed movie Precious. In This Is Just My Face, she shares a one-of-a-kind life story in a voice as fresh and challenging as many of the unique characters she's played onscreen. With full-throttle honesty, Sidibe paints her Bed-Stuy/Harlem family life with a polygamous father and a gifted mother who supports her two children by singing in the subway. Sidibe tells the engrossing, inspiring story of her first job as a phone sex "talker." And she shares her unconventional (of course!) rise to fame as a movie star, alongside "a superstar cast of rich people who lived in mansions and had their own private islands and amazing careers while I lived in my mom's apartment."

Sidibe's memoir hits hard with self-knowing dispatches on friendship, depression, celebrity, haters, fashion, race, and weight ("If I could just get the world to see me the way I see myself," she writes, "would my body still be a thing you walked away thinking about?"). Irreverent, hilarious, and untraditional, This Is Just My Face will resonate with anyone who has ever felt different, and with anyone who has ever felt inspired to make a dream come true." – Amazon
Next up is the what the wha… because in my own mind, I'm thinking, what is Charlamagne the God gonna give us in his upcoming book titled Black Privilege:  Opportunity Comes to Those Who Create It?
Now before I jump ship, I'm interested in exactly what Charlamagne calls Black Privilege.  Being an author, having a way with words or a strange way with words is somewhat of a gift, therefore, when it comes to titles, taking it literally isn't always the best way to take it.  I'm more into the subtitle Opportunity Comes to Those Who Create It.  Fair enough, right…in general, not in the technical?
I get what Charlamagne the God is saying beyond the title because I actually READ the synopsis to not assume.  What's supposed to go down in the book is all about MAKING IT.  It's about forcing oneself up out of mistakes and not allowing them to hold you back.  This, according to the write up at Amazon, is exactly what he did.  I can say he really did because he is from a rather small Moncks Corner of SC, and I'm from the capital of SC, and I've never been through Charlamagne's birth city but maybe once.  I swear I didn't see it.  I saw a possible sign or maybe…yeah.
Look, I'm totally interested in this book.  Though all may not agree with what he says and his stance on things, at least he says it and people know where he stands.  As a writer, it's always been interesting for me to "learn" a person, whether I disagree or not, but the one thing I can guess – and if I was a betting woman – put money on —-THIS BOOK WON'T BE DULL.
Here is Amazon's synopsis so PRE-ORDER:
"Charlamagne Tha God—the self-proclaimed "Prince of Pissing People Off," co-host of Power 105.1's The Breakfast Club, and "hip-hop's Howard Stern"—shares his unlikely success story as well as how embracing one's truths is a fundamental key to success and happiness.

In his new book, Charlamagne Tha God presents his comic, often controversial, and always brutally honest insights on how living an authentic life is the quickest path to success. Beginning with his journey from the small town of Moncks Corner, South Carolina to his headline grabbing interviews with celebrities like Justin Bieber, Jay-Z, Nicki Minaj, Kanye West, and Hillary Clinton, he shares how he turned his troubled early life around by owning his (many) mistakes and refusing to give up on his dreams, even after his controversial opinions got him fired from several on-air jobs. Combining his own story with bold advice and his signature commitment to honesty at all costs, Charlamagne hopes this book will give others the confidence to live their own truths."
April 18th will be here before you know it. Pre-order it and sound off when you read it.  I'm certain Charlamagne tha God will see and maybe even answer.  He stays  tuned in.
Kelly Osbourne.  I can be honest. I haven't kept up with Kelly in a long time, since she was a girl.  Now that she's a full grown lady and cursing in at least 3 words of the title of her book, I guess she just caught my attention.
There Is No F*cking Secret: Letters From a Bad**s B**ch.  (sigh)  Okay, so where do we go from here?  It looks like she's gonna tell it all, and give none about doing it.  She's actually writing it in a way that she feels will empower people all over to take charge of themselves, have confidence and freaking do it while remembering that everyone's watching.
Here's my take – Everyone is watching.  Shoot, God is watching.  Your future self is watching and saying, chile, don't do this to me.  Everything comes to the light someday and you have to deal with it.  Confidence (what she is promoting) is one thing, but have confidence in doing the RIGHT thing, if not 100% of the time – make it 85%. At least you're leaning the right way and you might fall over into the 90% area via a trip or a push.  Remember, it doesn't take doing wrong to get anything right.  Don't believe that hype.  It takes wisdom to make good decisions.
But that's my take.  We'll see what Kelly says because she's lived and lived alot and surely learned in areas that many of us haven't as we aren't an "Osbourne".  No pressure, right?  It will be interesting to read how she sees and has seen the world from her side of things.  Everyone has their own experiences to deal with and divulge.
Check out Amazon and break it apart:
"Kelly Osbourne may not always have been a typical role model, but no one can say that her perspective isn't hard won after spending three decades in the spotlight: from growing up completely exposed to the heavy metal scene—replete with crazy antics most readers have only begun to hear about—to spending her teenage years as the wild middle child of an even wilder Ozzy Osbourne, to the family's popular stint on their wacky eponymous reality show. Since then, Osbourne has forged her own path as a style icon and powerful woman in the media who isn't afraid to tell it like it is and be honest with her fans. But being the daughter of a music legend hasn't always been glamorous; growing up Osbourne is an experience that Kelly wouldn't trade, but there are battle scars, and she is finally now ready to embrace and reveal their origins.

Told as a series of letters to various people and places in her life, There Is No F*cking Secret gives readers an intimate look at the stories and influences that have shaped Osbourne's highly speculated-about life, for better or for worse. The stories will make readers' jaws drop, but ultimately, they will come away empowered to forge their own path to confidence, no matter how deranged and out of control it may be, and to learn the ultimate lesson: that there just is no f*cking secret."
But I have to admit, she is working that book cover.  Do your thing, Kelly.  April 25th.
---
Since after reading all of those up top you'll still need some fiction in your life, grab copies of The Secret Novel Collection and more right here at my website, in paperback or ebooks.