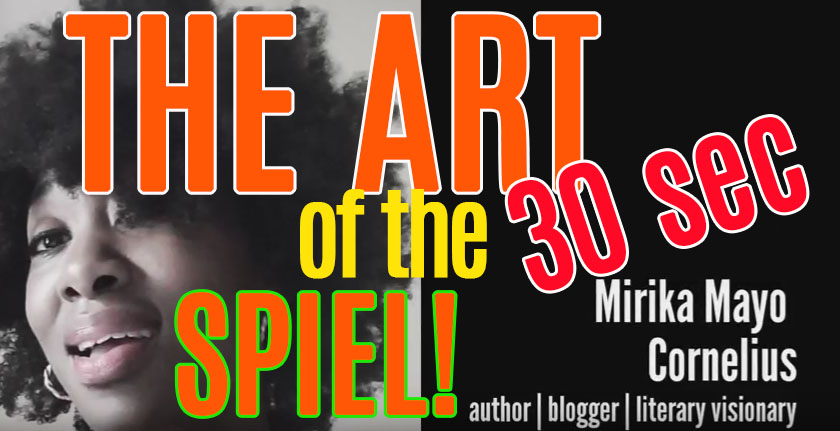 In a YouTube video titled Learn the Art of the 30 Second Spiel, I talk about developing a short, great book spiel, or pitch, for authors who may struggle with this at the beginning of their careers.  Check out the full video at the link where you can also subscribe to my YouTube channel, or view the video at the bottom of this post.
Here is a list of the items necessary for what I consider a close to perfect book pitch:
A CLEAR MAIN IDEA – this is the clearest part of the statement about your story in as few words as possible, telling exactly what the story is about.  It shouldn't give all the details, but a short, to the point but very good account of what will definitely happen in the pages of the book.
AN ENTICING HOOK – this is the open question that leaves curiosity about what is going to happen and how will things go down in the story.  The hook should breed nothing but full excitement and interest in your book because it's the part of the spiel that will sell it.
A WELL TONED DELIVERY – the delivery is everything when it comes to how the reader appreciates what the author is describing when it comes to the story.  Every author should be upbeat and giving the reader the feeling that they are ready to to tell it all, passing on the emotion of YOU DON'T WANT TO MISS OUT.
CONFIDENCE – this is key because stuttering and rambling will only lose the reader's attention.  Display confidence in the pitch you deliver, and the way you do that is by knowing and executing exactly what you want to say without hesitation.  Therefore, practice!
If you would like to get a really quick example, and a couple more tips, watch the video!

---
It happened in 1984. Her mom was gone, and she was left all alone in the house for only a few minutes. This was when her life changed, and everyone outside the home heard her screams. This was the life of innocent Katy Rose.