I already wrote about this some time ago (he changed the title of the book amongst other things), and I'm taking the time out to write about this book again with the official book cover. Here is a young Bobby Brown, singer and reality show star, who has not only lost an ex-wife we all know as Whitney Houston, but their daughter, Bobbi, was also lost to drugs in nearly the same exact way as her mother.
Bobby Brown has suffered much tragedy in his life, and some even say that he is to blame for it all.  However, I differ in opinion.  I feel like Bobby Brown has lived and learned just like the rest of us, and sure, some things he stepped right into head on.  Others, however, just happened by chance.  It is all these items that I am curious about being that he was once one of my favorite entertainers coming from New Edition all the way to Don't Be Cruel.
Yes, I want it from his mouth.  Yes, I want it beyond the fifteen and twenty minute interviews.  I want Bobby's story, and I intend to get it from as they say the horse's mouth.  Besides, he is literally the only one left who, if he will, reveal even more details than what anyone else can, into his life and the life of his deceased.
This is a must read.  To be released on June 13th.  PRE-ORDER here.
---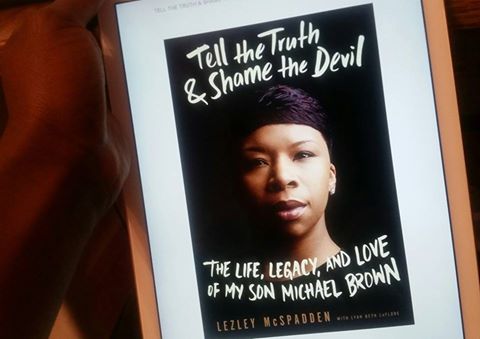 What many have yet to find out is that the mother of the young man who was shot down in the middle of the street in Ferguson, Michael Brown, has released a book titled Tell the Truth & Shame the Devil.  Her name  – Lezley McSpadden – and as you can see by the photo to your right, I've already downloaded it.  So far, it's great.
With a foreword from Medgar Evar's wife and preface from rapper/actor/activist Common, the book shoots straight forward from the beginning, and I like it.  I haven't finished reading it yet, but coming from a mother who lost a son in the USA and there was absolutely no justice, this is a must read.
Download/Purchase the book now here.
---
Angie Martinez. Bloggers tuned in, didn't we all? Well, I can only speak for myself because when I celebrity blogged for a living, I kept my ears open.  One of the people that I listened to as she interviewed celebs was Martinez. This is the reason why I shall buy this one, – FOR THE ONE INTERVIEW THAT I'VE NEVER HEARD IN ITS ENTIRETY –  Her and Shakur.  Tupac that is.   Angie has written about it in the book, along with how she made it.
So this one is one for me.  I just want to know, and I shall.  Get it with me right here.
---
I wanted to add this one to my list because I love a good true story, and this one seems like it's a great one bringing together people from two different worlds onto the court while being celebrities on their own side of the tracks in their own game.
Read the synopsis and then order at this link!
"A monster slam dunk that will impact your life."–Pat Williams, founder and senior vice president, Orlando Magic

In 1970, one small southern town was a powder keg ready to erupt.
But it was also on the verge of something incredible.

Eddie Sherlin and Bill Ligon grew up on opposite sides of the tracks in Gallatin, Tennessee. They knew the barriers that divided them–some physical landmarks and some hidden in the heart–but those barriers melted away when the boys were on the basketball court. After years of playing wherever they could find a hoop, Eddie and Bill rose as leaders of their respective high school teams. And at the end of the 1970 season, all-white Gallatin High and all-black Union High faced each other in a once-in-a-lifetime championship game. What happened that night would challenge Eddie and Bill–and transform their town.

A fast-paced true story of courage, determination, and forgiveness, More Than Rivals offers hope and inspiration for our times.
— QUOTE FROM AMAZON.COM
---
Get my brand new encore series Deception at Gabriel's Trails now!