When I started writing Ain't Quite What I Thought, it was honestly something that I had no idea I would ever write.  Throughout the years, I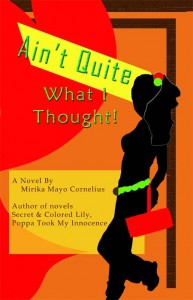 haven't been one of the many who take a romance from the top of the pile of other books and run for the top of my mountain to start page one.  Not that I ever knocked love stories because I have read my share.  My interests tended to lie in other stories that weren't so touchable in my life, basically that would bring a new experience other than "love".
Then it hit me.  I'm in love with my imaginary character named Jeena Delilah Ray, and the only place where she would fit is in a romance.  This romance wouldn't be any type of love/lust story either, but it had to be one that incorporated some of the other distinguishing features of my other books which I call the oh know that just didn't happen factor.
Ain't Quite What I Thought follows a young lady through a series of events in her life that become further complicated when she flirts with the temptation of a man who is married.  Sure, she thought she had things under control, never wanting to be the jump-off, or other woman whom he jumps on and jumps off.  Instead, Jeena always wanted to be the woman that her man jumped on, and well, stayed on, in a sense.
In several different ways, all the lies, demons and come reach a head when her life spills onto the streets.  No amount of super glue, needle and thread, concrete or praying seems to keep things on the hush because Jeena ended up riding on the Ferris wheel in the center of hell!  So now what will Jeena do?  RUN!  Where she runs on the streets of Miami, wait for the book to find out!
Until then, if you haven't read the excerpts, do so now!