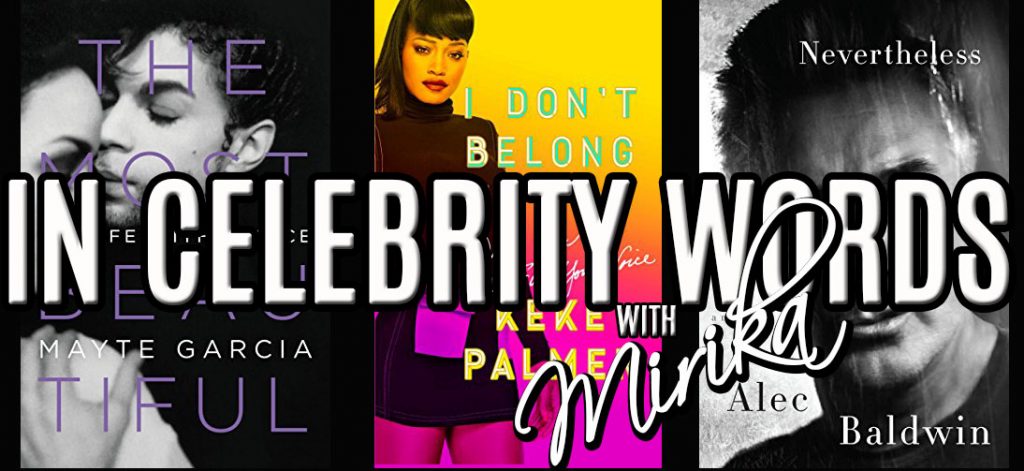 For those of us a little curious as to who is releasing what in the realm of books this year, I've compiled my IN CELEBRITY WORDS list once again for this half of 2017, and you may be a bit shocked or even delighted at some of the life stories being told in the upcoming weeks and months.
I'm going to kick it off with a love story.
As soon as I saw this book titled The Most Beautiful: My Life With Prince by Mayte Garcia, I thought that this would probably be a great book to read as it will give a glimpse into the private love story of Prince with his ex.  We all remember Prince to never be one to air out every single detail of his life, however, for the relationships he kept while on earth, they were relationships that were really close to the heart as we saw when groves of friends spoke of him at the news of his passing away in 2016.
We all had the time to watch Mayte Garcia on the reality show Hollywood Exes, but she has a background in television and film even before that show aired, one of which I'd shown off back in my celebrity blogging days of innthebasement.  She'd also had parts in shows like Nip Tuck and Army Wives, therefore, she obviously has a passion for television and movies while she's a natural born dancer and entertainer.
This will be Mayte Garcia's first book, and it will be released in April on the 4th of this year, and what's inside this book is summed up on Amazon which can be read below in quotes.  What I can tell you off the top  of my head is that she was a young wife in her early twenties and Prince in his late thirties when they married, and during that time, they'd gotten pregnant, and if my memory serves me right, there was a miscarriage which devastated them both.  It was a truly sad moment, and afterwards, they divorced for reasons I don't know, however, it will more than likely come up in this memoir.
"In The Most Beautiful, a title inspired by the hit song Prince wrote about their legendary love story, Mayte Garcia for the first time shares the deeply personal story of their relationship and offers a singular perspective on the music icon and their world together: from their unconventional meeting backstage at a concert (and the long-distance romance that followed), to their fairy-tale wedding (and their groundbreaking artistic partnership), to the devastating losses that ultimately dissolved their romantic relationship for good. Throughout it all, they shared a bond more intimate than any other in Prince's life. No one else can tell this story or can provide a deeper, more nuanced portrait of Prince–both the famously private man and the pioneering, beloved artist–than Mayte, his partner during some of the most pivotal personal and professional years of his career. The Most Beautiful is a book that will be returned to for decades, as Prince's music lives on with generations to come." – Amazon
By the way, if you want to watch Mayte Garcia in a small film role from way back in the day, here's one below titled Choices.

When I think about KeKe Palmer, I always think upbeat with a little, much needed, good sass and much talent, so it doesn't surprise me that she's taken on the hat as author with an upbeat, hot book cover with the titled splashed across it reading – I Don't Belong to You: Quiet the Noise and Find Your Voice.  We all know that KeKe has a big one – voice I mean.  She's a big, huge talent wrapped in nice brown skin with the gifts of singing, dancing and acting, and I do believe this is her first book, therefore, she has joined us as an AUTHOR.
Here is a portion of what's in store for those who choose to make a move and read Palmer's first book:
As a successful music artist, actress, and talk show host, from inner city Chicago, Keke has always used her social media following and platform for real talk about the issues that matter most to her generation, but now she is speaking out candidly and for the first time about the secrets, struggles, and practices that have guided her to succeed. On the surface, it may appear that Keke has it made, but under the success, she has grappled with the same issues all young women wrestle with—identity, pressure, self-worth, love, sexuality, heartbreak, and family.

With this in mind, she created I Don't Belong To You—an inspirational guide that encourages young people to change their mindset and live with more freedom, confidence, and love as they navigate the rough terrain of the twenty-first century. Full of revealing stories from Keke's personal and professional life, this book tackles twelve topics—sexuality, race, anxiety, success, bullying, and body image to name a few—with refreshing honesty. – Amazon
Watch her here just in case you by some sort of weird chance have never heard of her in this lifetime.  She, at this point, needs no introduction.

January 31st is right around the corner for the drop.
Okay and now for the Alec Baldwiners of life, his book titled Nevertheless: A Memoir is releasing on April 4th, and according to what I've read, he's going to dish the delightful and even the downright dirt in the upcoming book.  This one is going to be a mighty read I believe, at least for myself, because I don't know much about Alec as far as off screen.  This book is going to tell about his youth all the way up to adulthood, assuming until now, therefore, it should make for one of those life long reads that he could finally get off his chest in his own words on paper.
According to the synopsis on Amazon, he will talk about his parents' split and even his drug usage and more, such as being a husband and father, the trip-ups and mess ups along the way, so it's a good way to learn off of someone else's mistakes as well as see the man behind the persona.
If you've never heard of Alec, well, he's very funny on SNL.  You've seen him…you just probably thought he was Trump.

Well, those are the few books that I have for you currently, but there will be more soon! :-)
---
Be sure to read my latest book Disguised by a Raging Smile!
It happened in 1984. Her mom was gone, and she was left all alone in the house for only a few minutes. This was when her life changed, and everyone outside the home heard her screams. This was the life of innocent Katy Rose.