Although it's not official, the tentative release date for the third and final book in the SECRET and COLORED LILY: Poppa Took My Innocence novel series titled PATON is to be August 31, 2014.
ABOUT WRITING PATON, the man
This is the first book I've written with a male protagonist, and while at times it was challenging because of the depth of emotion that Paton requires to make his person come to life on pages within this saga, he is an exceptional man to have created due to all that is involved.  Paton is the most complex character I've ever written thus far, in mind, spirit and soul.
CIRCUMSTANCES IN THE BOOK
Although PATON is the third and final book in the novel series, it is dated before the other books took place. This novel series is written backwards, or as prequels, but because of how I wrote the accounts of each book, a reader can pick up any one of the three and read for a completely different story.  The best way to read, however, is in order.
The circumstances that brought PATON along came from his hated past with his daughter, Jocelyn, from the book COLORED LILY:Poppa Took My Innocence (book 2).  Their relationship was formed out of hatred, however, while the abuse went on, there was no answer as to what created the monster that inflicted the abuse onto an innocent girl.  This answer lies in PATON, the man that became a monster.  A male protagonist with such depth and background makes the psyche of this man dangerous, shameful…yet amazing in art.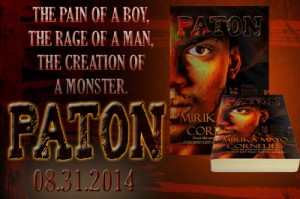 STORY CONFLICT
I have a belief and saying that the true war is within us all, so we should all stop lashing out and be healed within. This is one of the battles attacking Paton all the days of his life, however, he finds no cure for his ills, thus, they end up binding him up into a madman.  There is no way for him to escape.
There is always a conflict of good versus evil, and someone may lose the ability to love in its various forms.  The story of PATON shows how circumstances can easily create the move of an individual into bad territories or good, depending on his or her own ability to cope with various pressures.  PATON is a story inside a multitude of stories, and they form the man we all know already as SECRET's grandfather, Rain's husband and Jocelyn's point of destruction.

ORDER SECRET
AMAZON – http://www.amazon.com/dp/B008QPS90Y
B&N/NOOK – http://tinyurl.com/mu7ulzz
AMAZON UK – http://www.amazon.co.uk/gp/product/B008QPS90Y?*Version*=1&*entries*=0
ORDER COLORED LILY: Poppa Took My Innocence (Book 2)
AMAZON – http://www.amazon.com/dp/B008SJDHM8
B&N/NOOK – http://tinyurl.com/mruua8j
AMAZON UK – http://www.amazon.co.uk/gp/product/B008SJDHM8?*Version*=1&*entries*=0
LENGTH OF TIME TO WRITE
My readers know that I'm a pretty dedicated and fast writer. My stories live inside me for a while, and I never write down anything before I begin a book. After they are completed in my mind, that's when I write, and for this book in particular, because it is a drama along with a period piece, I thought about it for two years. It only took me two months to write. It is a complete novel.