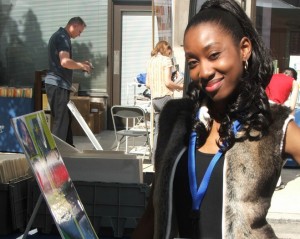 You can feel it in your bones.  Becoming an author is one of the things that you will add to your bio, and the first thing you will do when you get home from work is WRITE THE BEST BOOK EVER.
This is the hope.  Now for the foundation, and there are 3 things that all writers can do prior to writing/publishing their first book that will make them better prepared to take on their new career.
Do you see that picture up top?  This is me, my second time at Chicago's Printer's Row Book Festival in 2005 and fully prepared to make my dreams come true while gaining the foundation of PROMOTING and INTERVIEWING by welcoming loads of questions.  There were many return readers who were there again to get a signed copy of my second book from The SECRET Novel Collection which is now one of my best selling collections.  All this to say what you will read momentarily – I learned through trial and error to already have an answer to the most important questions.  Therefore, hopefully, I can help save you, the upcoming writer, some time for more success.
#1  Answer the question WHY?
In order to write a great book, one must know the reason for writing it.  Do you want to share a moral lesson to the world, share secrets of the unknown, reveal a different culture to those who may find it interesting, and the list goes on.
By knowing the reason behind your work, you are better equipped to answer various questions when interviewed about your book, and you will even be able to keep your book's theme on track so that you nail the reason for writing it in the first place.  No matter if the book is fiction or non, it's always smart to be able to answer that question of WHY before writing the work of art.
#2 Answer the question WHERE?
Where are the readers for your book?  This is a great question to ask yourself before you write a book because you aren't just writing the book for your eyes only…or are you?  Therefore, you want to find out WHERE you can reach the most readers for YOUR book.  Everyone's audience is different, and there are billions of people on the earth.  Because of this, find out WHERE the crowd is that needs or wants to learn/be entertained by what you are about to write.
#3  Answer the question HOW?
Lastly, this is one of the more important questions to ask – HOW?  How are you going to get the book done in a decent time frame?  How do I format the book?  How do I even have the book published?  How is my grammar…really…both verbally and on paper?  Write down all the HOWs that you need to have answered so that you better UNDERSTAND THE BUSINESS.  The more you know, the better your start will be as an author.
By answering these questions, you will be able to maneuver the publishing industry much faster, know how to market to the right people BEFORE the release of your book, and when you come face to face with fans or are interviewed about your masterpiece, you will know how to answer easily and confidently due to the magnificent foundation you laid for yourself.