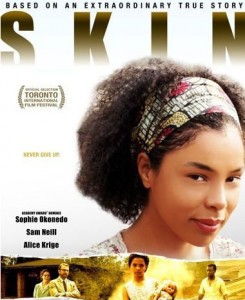 Tonight, I watched this 2008 movie starring Sophie Okonedo titled Skin.  How this movie slipped through my radar, I haven't the slightest idea, but it's one of the best movies ever.  As the story goes, Sophie Okonedo plays a white black girl – LITERALLY.  Both her parents are white, however, when she was born, she came out with African features from the hair to the skin color.
Surely, this was enough to put the then apartheid ridden South Africa in an uproar, so much so that she was all over the papers and even arrested after she decided to be happy and fall in love with an black African man.  Her family rejects her, and then she ends up being leaving her husband, to end up becoming successful and extremely happy – in her beautiful black skin as a white girl turned legally 'colored'.
100% awesome movie during my break from working on this new delayed book – Ain't Quite… What I Thought!  Changes happen but for the better!  Oh yeah, and back to the movie, actress Sophie Okonedo is really biracial – an African father and mother Jewish.