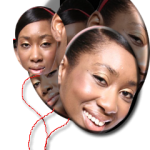 I've had so many fantastic things to happen in the month of May, so it's time for a recap. I'm very thankful to all those who have downloaded and ordered the new paperback versions of my novels – Secret, Colored Lily: Poppa Took My Innocence and Ain't Quite What I Thought! They went into paperback in May, some weeks earlier than what I planned, and I'm glad I made the move because now all of my novels can be ordered from local bookstores as well as online – yes, that includes Barnes and Noble!
As far as Murders at Gabriel's Trails, the complete 5 part urban series is done, and I've had great responses from readers following the
series…they want more! Therefore, I completed the cover to the 5 part collection that will be published with a huge bonus titled SINS OF BAIN! Check it out to the right.
That will release this summer along with the sequel to the last novel that I am hard a work finishing – Ain't Quite What I Thought 2. Thanks to the readers for reading and enjoying the first book, and I definitely want you to enjoy the second.
Keep updated as I am releasing my debut horror that I have yet to reveal the title, but it's gonna be GOOOOD! I hope to have the release dates soon for my summer releases. By the way, PATON will release in the winter, and if you've read Secret and Colored Lily, this is a definite book you don't want to miss!
To my readers everywhere, you did that!!! You made May a great month for us, so we have to do it again!  God bless you and know that Jesus loves us!
-Mirika
PS – Planning a book tour for 2014!  Stay up!!