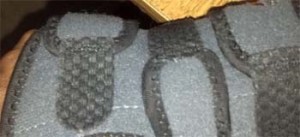 Last night, I sprained my wrist in a failed attempt to protect my son from rolling off of the bed as he decided that he wanted to sleep in MY bed which is elevated far too high from the floor.  Well, it frightened me when I woke up to see him slanted about to hit the floor if he made too much movement, thus, grab legs gone wrong.
Anyway, this isn't interfering with my typing thank goodness.  It may, at times, interfere with my comfort, but hey – stuff happens.  Thank God I can still use it well with an ugly black brace.
Meanwhile, plans are to go put my money on Think Like a Man tonight.  Everyone should make it happen as it is the number one movie in the country with all great actors with a funny ring to the plot.  For the most part, it sounds like it's a feel good movie, so I'm all in.
Later!  And no, I won't wear the brace out.  Not a good look.  Tough it out.