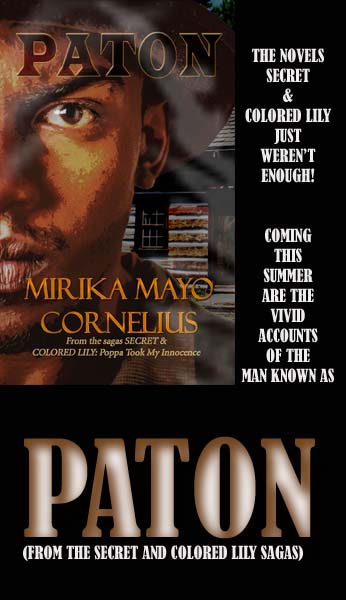 I've been writing on Paton for the last couple of weeks now, and I have to say that I'm very pleased with the story from the very beginning. The entire novel should be done by early July, but it won't be released until mid to late August.
All I can tell you about the story is that it's brilliant!  Paton is the man from the 2005 novel Colored Lily: Poppa Took My Innocence.  Colored Lily is the book that was written after my debut 2002 novel SECRET.  Meant to be read in this order – SECRET, COLORED LILY, and then PATON – to gain the most tension and suspense from the stories, I still wrote the books as stories that could be read all on their own although they are from the same exact family line.
The books are written in order of reverse time, or as prequels to one another when read in the proper order, and the magnitude of each story has made these sagas my most successful.  Those who have read them out of order, have also been well pleased as making for a captivating and intense drama.
My goal with Paton is to make it the finale of this three part saga…unless of course the readers want more.  Thanks for the Secret and Colored Lily encores once again!  Paton is coming!
–Mirika