This weekend is the rerelease of the novella Dead Man's Mayhem by Cyan Deane.  I'm excited about this re-release because this is one of the stories under Akirim Press that brings a pulp fiction feel together with urban crime and thriller under the umbrella of envy, wrath and betrayal…starting from the coffin… while bringing dry humor within the pages.
The book cover has changed, bringing more demand with the color scheme and overall feel of the story.  There is a man in the coffin, supposedly dead, however, very much so alive while the pistol is placed dead center with full meaning deriving from the story.  The reason why Clive is presented dead in the coffin above the city appearing caged in is supposed to reflect his mental and physical state at the time – feeling like a caged animal or prisoner that will find his way out to seek revenge.  At that particular point, he is above the law and above death, thus being above the world in the mayhem that he will eventually create in the wake of his full rage.
Get DEAD MAN'S MAYHEM on KINDLE UNLIMITED now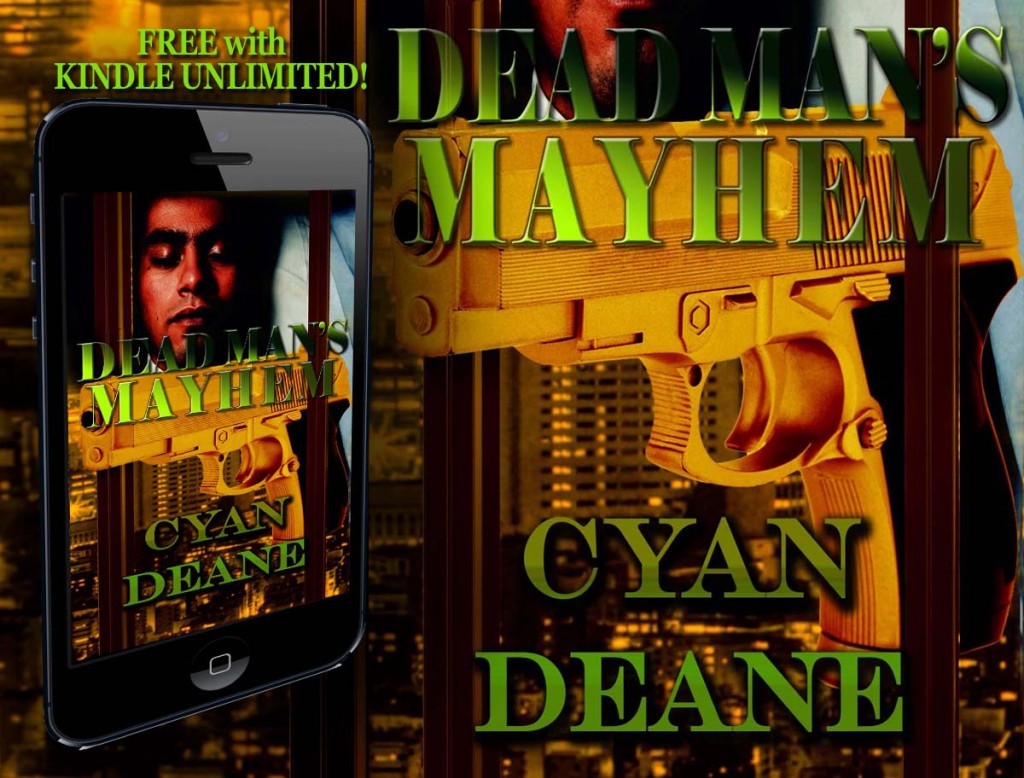 Things turn chaotic when Clive Wright, who is supposed to be a dead man lying in his coffin, wakes up to find out that he really isn't dead but drugged! When he escapes from his death bed prior to his funeral, he ends up unraveling the chaos that occurred before his supposed 'death' while coming face to face with those who thought they killed him!

Will his enemies finish the job of burying him six feet under, or will Clive turn the tables of death over on them all?
One of the best things about Dead Man's Mayhem is that the intensity grows continuously in the story as Clive makes his way to face those people who attempted to do him in.  He moves from victim to predator in the story, and revenge eventually consumes him until it manifests itself in the worst way, and that worst way could truly mean life or death for himself or anyone else in his path.
The insertion of dry humor was needed in this story because of the level of intensity, and this gives the reader a special feel for the story that can only be captured in this book with this particular main character – Clive.
Clive lives with a built in frustration and yet thrives off of creating that same atmosphere for certain others at times, often in hilarious ways.  His language is that of a hot head while not holding back his tongue for anyone.  Where others proceed with caution, Clive is full throttle, therefore, any reader who wants him to calm down and cool off with his chosen verbiage is really asking too much.  It's Clive.  Love him or hate him…which is what got him in the predicament in the first place.
Enjoy the download!