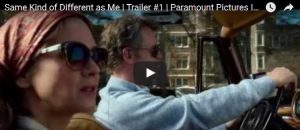 "We are all homeless." Yes we are. Just watch the brand new trailer for the movie SAME KIND OF DIFFERENT AS ME, and then say you really aren't going to watch this movie. I call your bluff.
Starring Renee Zellweger and Djimon Hounsou, this is going to end up being one of my favorite movies to watch of 2017 (February 3rd).  I can feel it.  The trailer tells all, so watch.
Now, I'm thinking that this movie is bouncing from a book!  Yes, a book written by Ron Hall and Denver Moore of the same title. Check out the cover to the right.  The book is an actual MEMOIR, so it's true or written based on personal knowledge or experience.  Here is what Amazon has as the summary from the publisher:
"A dangerous, homeless drifter who grew up picking cotton in virtual slavery.
An upscale art dealer accustomed to the world
of Armani and Chanel.
A gutsy woman with a stubborn dream.
A story so incredible no novelist would dare dream it."
The book has OUTSTANDING reviews, so yeah, what you want to do is get the book first. Afterwards, be prepped for the movie in 2017. It's a for sure winner. Also, when you click to buy the book, scroll down to see a photo of the two gentleman of the memoir.
---
Download Curse the Cotton now!
Curse the Cotton
Life on the plantation for a Negro woman was already worse than any livelihood that existed, but when the wealthiest "massah" in the area destroys the only grasp on true, unquenchable love that Shelone has left to live for, her thirst for revenge is unleashed, starting in the vast cotton fields and ending in bloodshed all across the Marksman plantation!