Cyan Deane
Mirika Mayo Cornelius presents… Cyan Deane



Your not so normal type of read and not so regular type of story
---
Dead Man's Mayhem and Execution's Karma are both books written by Cyan Deane.  As most have probably figured out, Cyan Deane is author Mirika Mayo Cornelius' pen name, and each time Cyan Deane writes, it's like nothing else ever read.
Cyan Deane represents the quality of work in books and stories that aren't common at all, but contain the entertainment value that keeps one flipping from beginning to end.  Cyan Deane's next book is to be released in 2018.
Until then, enjoy the two previous novellas, Dead Man's Mayhem and Execution's Karma.
---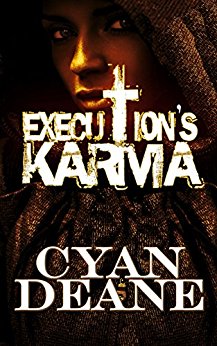 EXECUTION'S KARMA
The forgiving gain forgiveness, and the merciful gain mercy, however, in a land where people have grown bloodthirsty and crimes are punishable online for all to see, there is no escaping the torturous Execution Stadium.
It's time for someone else to be executed before all the people, however, when things go desperately wrong, Governor Dearth and his family find themselves in the center of a full out attack that they prophetically brought on themselves through the dismissal of the words of the prophets!
AMAZON KINDLE   NOOK  GOOGLE PLAY  iTUNES
---
DEAD MAN'S MAYHEM
Wouldn't it be crazy if the people you love try and kill you…but they fail? Then, you show up at their doorsteps when you are supposed to be dead and buried in the grave. This is what happened to Clive in Dead Man's Mayhem. What do you think happens next?
Find out when you read Dead Man's Mayhem.