Cyan Deane
Mirika Mayo Cornelius presents… Cyan Deane



Your not so normal type of read and not so regular type of story
---
Dead Man's Mayhem and Execution's Karma are both books written by Cyan Deane.  As most have probably figured out, Cyan Deane is author Mirika Mayo Cornelius' pen name, and each time Cyan Deane writes, it's like nothing else ever read.
Cyan Deane represents the quality of work in books and stories that aren't common at all, but contain the entertainment value that perpetuates brilliance.  Cyan Deane's first novel is planned to release in 2016.
Until then, enjoy the two previous novellas, Dead Man's Mayhem and Execution's Karma.
---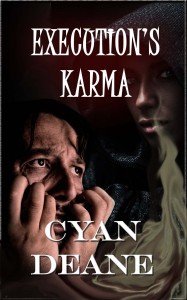 EXECUTION'S KARMA
The forgiving gain forgiveness, and the merciful gain mercy, however, in a land where people have grown bloodthirsty and crimes are punishable online for all to see, there is no escaping the torturous Execution Stadium.
It's time for someone else to be executed before all the people, however, when things go desperately wrong, Governor Dearth and his family find themselves in the center of a full out attack that they prophetically brought on themselves through the dismissal of the words of the prophets!
AMAZON KINDLE   NOOK  GOOGLE PLAY  iTUNES
---
DEAD MAN'S MAYHEM
Your enemies plot to have you murdered, but things simply don't turn out the way they planned!
All friends aren't worth keeping, especially when they secretly can't stand the ground you walk on. That makes them your enemies with backstabbing smiles.
This is exactly the situation that Clive finds himself in when he nearly died behind the plotting of several people against him, except who those people are, he didn't know.
Fingers begin to point, and plots begin to unravel as the killers realize that their murderous plan has failed and the "dead" is now about to seek revenge!
AMAZON KINDLE   NOOK    GOOGLE PLAY  iTUNES