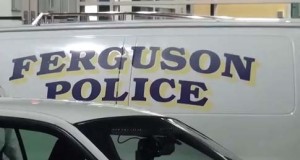 More death in Ferguson, a town in an uproar over racism.  Now, two officers have been shot at a rally after the resignation of the police chief.  Prior to all this and what lit the match to this fury was the shooting of Michael Brown, an unarmed young man.
There have been protests since, lies and racism directed toward African Americans coming from the police department, and this latest round has left officers as the ones in front of the bullets.
One officer was shot in the face, and the other in the shoulder.  No deaths.  They are both hospitalized.  More at Yahoo news.  Below is live footage of what happened.
Unfortunately, it seems that much has come a tad bit too late.  There seems to be a growing resentment…even hatred…for the police officers in this area as a result of African Americans being mistreated for so long.  Not all the people of Ferguson are out for blood, but obviously, there are very few unidentified people who don't mind pulling the trigger on injustice and, whom they see, are people who have tried to destroy others.
In this case, it is the good, moral and peaceful citizens who will end up suffering…as always when there is a battle whether it be gangs against gangs, police and civilians clashing, or countries against other countries.  We all need to find a peaceful way to settle differences, but right now for some, peace is hard to see.