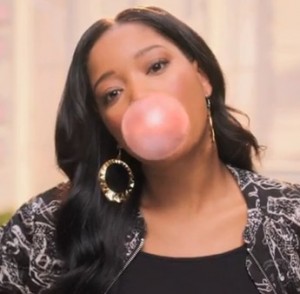 Scream Queens…I know everyone who watches Empire, or saw the Empire finale, saw KeKe Palmer as she blew that piece of gum and the image on the inside of the gum transformed into a devil. If you missed it, watch below. It makes you wonder what it's all about, right?
Well, Scream Queens is coming at us on FOX this fall, and it's about a bunch of killings that happen on a college campus. This is my speed for anyone who has read at least three of my books (Murders at Gabriel's Trails, Inside the Gates of Doons and I Thought I Was Alone). I tend to lean in the way of a great suspense. Anyway, it's obvious that KeKe Palmer has a role in the series, and also starring are Emma Roberts, Skyler Samuels, and Abigail Brenslin. Niecy Nash also has a regular role in the series as well as Nick Jonas and Jamie Lee Curtis.
This is a great cast, so I'm thinking that this new series is a watcher.