There are many people who have revealed they will not watch When They See Us due to fear and anxiety. I perfectly understand as I thought I wouldn't be able to take watching it either, however, I felt like if those young men, now adults, had to push through and survive with horrific memories, I can work up the strength to watch and honor the effort they all put in to assist with the film by reliving to reveal the truth.

I made it through the movie, and it will help me to make it through life. There will and has always been a strength gained and increased knowledge and awareness gained through pain and even sorrow … to press on and not give up. The film is hard but ✊🏾powerful. I couldn't shut my eyes to it because those men deserve to have their stories watched, swallowed, digested and remembered for FUTURE FREEDOM.

Prepare and watch.

Sure. It is scary. Watch anyway.
Yes. It will make you cry, angry etc. Watch anyway.

These feelings of fear, anger, sadness aren't foreign to any black person in America who has fought, bled and died and even suffered for the FREEDOMS of all of us, from E. Till who was lynched to his mother who needed to show the world what racists did by having the casket open. Even she found strength to move FREEDOM and AWARENESS forward as her son's body lie brutalized in a coffin.

For these men, the Central Park 5, we can surely find the strength to watch and shout JUSTICE.
Fear, anxiety, and even rage and sorrow … none of these emotions should keep us from facing the realities of injustice and fighting for FREEDOM from those injustices. Have we come this far to say WE ARE AFRAID?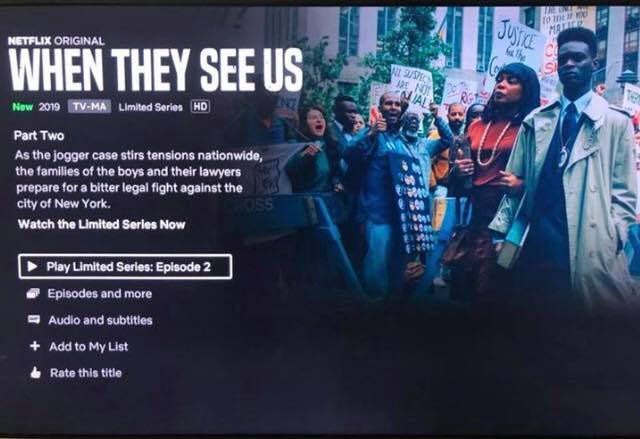 Even with the upcoming movie Emanuel which will tell the story of the church massacre in Charleston, SC where a racist white man entered the Emanuel church and executed many members as they prayed, I have said that I won't watch because of the apprehension of walking myself toward pain to stare it in the face voluntarily and allow it to try… just try…and break me. As I get closer to seeing the movie, I realize that I have told myself a lie. I will end up watching. The truth is, I will watch them all. Everything. Everyone. I will watch.
I will watch because FEAR should never hinder anyone from the realities on the road of gaining FREEDOM, TRUTH and JUSTICE.