DISGUISED BY A RAGING SMILE
It happened in 1984. Her mom was gone, and she was left all alone in the house for only a few minutes. This was when her life changed, and everyone outside the home heard her screams. This was the life of innocent Katy Rose.

---
CURSE THE COTTON  **(Bestseller)**

Life on the plantation for a Negro woman was already worse than any livelihood that existed, but when the wealthiest "massah" in the area destroys the only grasp on true, unquenchable love that Shelone has left to live for, her thirst for revenge is unleashed, starting in the vast cotton fields and ending in bloodshed all across the Marksman plantation!
What happens when a female slave decides enough is enough?  Read CURSE THE COTTON NOW!

Review:**5 STARS**
"Curse the Cotton More, more, and more. Couldn't put it down and it was hard when it ended. Need more books like this. Another great book by this author. Exceptional"    – K Preyer
Review clip: **5 STARS**
"Even though this writing was fiction, because of the setting and the time period, I felt like I was reading a real experience of a slave. It was a very good and an interesting story.  I am an avid reader of all of Mirika Mayo Cornelius books: "I Thought I Was Alone 1 and 2", "First Degree Sins" "Ain't Quite What I Thought 1 and 2" , "Colored Lily", "Paton" to name a few. "Curse the Cotton" is another masterpiece."
— Marceya Wren
Review clip: **5 STARS**
"Amazing I absolutely loved this book…it is a must read."
–Andreana Wilson
---
The SECRET Novel Collection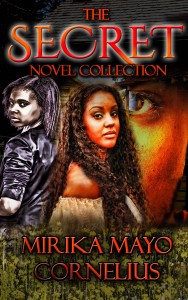 Available now is The SECRET Novel Collection, the full family saga of all three novels – Secret, Colored Lily: Poppa Took My Innocence and Paton – in one collection with only one click!
AMAZON KINDLE     B&N/NOOK    iTunes/iBooks   Google Play
*(Continue to scroll down to purchase each book separately)*
"a heart-wrenching story…the author cleverly speaks to the "taboo" issues of child abuse and incest through the eyes of an innocent child…gives great presence to the main character" – Anna Bowman of Morning News
Annie Hawes of Euro-Reviews calls Colored Lily: Poppa Took My Innocence "realistic and lifelike and vivid. Like Secret, of which Colored Lily is the prequel, no reader can come away from this book without being touched as deeply as possible."
---
SECRET

In a small, southern town, there is a scorned secret that has ripped through homes. Accursed is the whore that it came from, people around town say, but to a sassy, country girl named Secret, that's not all to it. She asks herself, what curse, and what does it have to do with me? That's when Secret takes matters into her own hands and attempts to solve the terrifying mystery of her family that roots from her own mother!
Will she ever uncover the curse that lives behind her name, or will Secret discover that all the hatred aimed her direction is truly deserved?
---
COLORED LILY:POPPA TOOK MY INNOCENCE (Book 2 of The Secret Novel Collection)

Colored Lily: Poppa Took My Innocence is the pre-quel, or second book, of the novel Secret telling the story of a girl who got turned out by her own father. This same father eventually made her world of horror even more tragic when his sexual abuse of her leads to the death of the one she loves most!
What would a daughter want more from her father than his love? However, in the rural town of Louisville, Georgia, a teenage girl called by the name of Jocie, finds out how the love she once adored from her poppa can become twisted and feel so much like hatred, causing hell-grown wounds. Going on a search for the love that she yearns so deeply, Jocie winds up with worse than she bargained for, and without an escape, ends up in the midst of death, darkness, and a cold conception while gripping the darkest secret that only God in heaven can know and forgive!
---
 PATON (Book 3 of The Secret Novel Collection)
After witnessing the ruthless murder of his best friend while his own life hung in the balance, the many demons Paton Jones spends a lifetime trying to suppress, begin to emerge. Armed with an evil before its time, Paton's life becomes a thick fog of deadly secrets, hidden betrayal, and overt lies that carve a relentless path of revenge and destruction against anyone who crosses him.
Before Secret, there was innocence. Before Colored Lily, there was corruption. In the beginning, there was PATON!
AMAZON KINDLE    B&N NOOK    iTunes/iBooks  Google Play  PAPERBACK   AMAZON UK