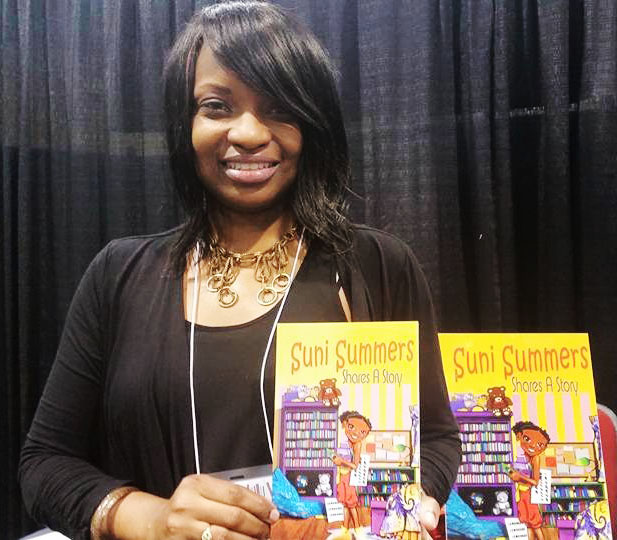 Upon arrival and settling in at the 2015 South Carolina Book Festival, my eyes immediately zoomed in on a book cover that I'd noticed weeks before the event.  The cover is quite cute with a young girl on the front who happens to be named Suni Summers.  Therefore, I quickly ran over and met the author to have one of my impromptu interviews which I call my OFF THE CUFFS which are generally short, sweet, and satisfying!
Sonja T. Williams is the author, and she was all in for an OFF THE CUFF with me about her latest children's book.  Just to let you know, she's extremely pleasant and seems to be soft spoken yet very intelligent and driven while sociable.  I enjoyed speaking with her throughout the festivities.
My curiosity lands on the book first, and she responded with a smile…
Sonja T. Williams: "My book is titled Suni Summers Shares a Story, and it's about a young girl who wants to share books with her community, and she gathers her friends together to help her achieve that goal."
How long were you working on this project?
Sonja T. Williams: "This one took a number of years because I started some years ago, and then I paused a moment to take care of life, and then I continued.  So it took me, I say, around two years."
Sonja Williams also shared with me that she has two books published, the other being Aloma and the Red Suitcase, but this author actually has five books written altogether.
What was the most difficult about writing a children's book?
Sonja T. Williams: "The hardest part of writing a children's book is probably getting the dialogue down because you have to get into the mind of a youngster."
Does some of the story come from your own personal childhood?
Sonja T. Williams: "Well, the first story, Aloma and the Red Suitcase did.  That intermingles my personal life, something we took [from] many years ago when I was six years old.  I took that concept and developed it into a story which is mainly fiction.

My books focus on life skills and character development.  Also they address the importance of reading, and I think that they are a great resource to teach the children about the importance of reading at an early age."
---
Read Suni Summers Shares a Story (Volume 1) today!
Suni is a giver – plain and simple. After all, her parents always told her, "When you get, give." So she wants to share a story – 1,000 storybooks with the people in her community. Only she has a huge problem – the weather! Why can't the weather just cooperate and not ruin things? Suni has a brilliant plan and just two days to get the books that she needs. She recruits her family and best friends to help her share her love for books. Suni discovers that sharing isn't always as simple as it seems. Will Suni and her BFFs collect 1,000 books in time for 'give-away' day? Ages 6-10 *Includes a blueberry lemonade recipe!
---
After our lovely OFF THE CUFF, we took an USie, and I headed off, not regretting one second of the time spent with an excellent author.
Learn more about author Sonja T. Williams at the Columbia Writers Alliance.